Ad Capital Finance, Franchise Business Loans
Tailored Franchise Business Loans in Just One Step!
At AD Capital Finance, we believe franchise business loans should accelerate your company's growth, not bog you down in paperwork, which is why we offer the only one-stop-shop experience for all your business loan needs.
Why Choose Us for Your Franchise Financing?
As the only true one-stop-shop franchise lender with almost 20 years of experience, we make the business loan process easy. Whether you are looking to obtain funds for a single piece of equipment, a remodel, or your next acquisition—we are your single point of contact that can handle all of your financing needs in as little as one phone call.
That means:
• No needless paperwork
• No fielding calls from underwriters, banks, creditors
• No digging up old, unnecessary financials
• No wasted time!
Plus, our 20 years of industry experience gets you:
• FASTER APPROVALS — in as little as 4 hours
• FLEXIBLE TERMS — up to 84 months
• BETTER DEALS — tailored to your unique needs
• APPLICATION ONLY — up to $350,000
• 100% FINANCING — for any franchise business loans
We provide turn-key financing solutions for all parts of the capital structure—including single and multi-unit operators.
Franchise Business Loans We Provide:
Equipment Financing/Leasing: Whether you're looking to rent or buy equipment to keep your business running smoothly—we provide competitive franchise business loans with excellent terms.
Remodels/Re-imaging: If you need financing to refresh your company image through remodeling or rebranding, including interior work, exterior work, or promotional materials, we've got you covered.
New Store Development/Expansions: We get you the franchise business loans you need to expand your company's assets—including anything from adding new products to building new storefronts.
Acquisitions: Looking to expand your franchise? We provide financing for all types of franchise acquisitions.
Working Capital: Get financing for your daily operations and working capital for any other investments you need to grow your business.
Real Estate: We provide real estate franchise business loans to help you expand into new buildings or locations.
Refinancing: We help you replace your existing debt under better terms and interest rates.
Recapitalizations: If you'd like to restructure your debt and equity mixture, we can help you restabilize your capital structure.
Partner Buyouts: Need a loan to help buy out your partner? We've got you covered!
Relocations/Off-sets: Get financing to help with the entire moving process when your company is relocating.
Apply Now
by Phone
Get Financed in as Little as One Phone Call
10 Minute Application
Fill Out Our Online 10 Minute Application Today!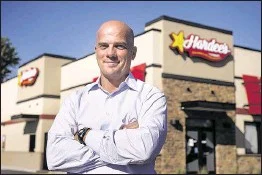 AD Capital was an excellent partner for us as we upgraded our technology in one concept and funded new equipment for a second concept. The approval process is thorough but not cumbersome. The team was thorough, professional, and knew exactly what questions to ask and how to get an answer from the underwriting quickly. I would not hesitate to use AD Capital Finance again!
— Nicholas Shurgot,CEO
Saddle Peak LLC.